The TARA plant is the largest manufacturer of clutch discs for agricultural machinery in the CIS. Leading the market for over 15 years, the company provides its customers with products of excellent quality, helping them to improve the performance of equipment.

It should be noted that the consumer can acquire a counterfeit spare part of the TARA TM, being misled, since the counterfeit spare parts can be visually practically indistinguishable from the TARA TM spare parts. To identify counterfeits, for example, MTZ-80 clutch disc, catalog number 70-1601130.

It is necessary to pay attention to the following parameters:
1. Price:
Products that are offered at a lower price are exclusively fakes. See prices on the official website of the manufacturer:




2. Packing:


Original:

The clutch disc packaging includes a handle for easy transport, high quality cardboard packaging.


Counterfeit:

There is no handle on the carton, the carton is of poor quality, the product name or catalog number does not match the image on the package.



3. Laser marking:


Original:

The factory logo and part number are laser-engraved for a clear look and easy identification of the product.


Counterfeit:

Marking in an unknown manner, catalog number is incorrect, difficult to read or missing.

4. Rivets:


Original:

Aluminum rivets for attaching friction linings. Steel rivets do not protrude beyond the support disc and do not interfere with clutch operation.


Counterfeit:

Steel rivets for attaching friction linings. The support disc is secured by protruding rivets that will cause the clutch disc to fail quickly.




5. Friction linings:


Original:

High quality friction pads, fit tightly and symmetrically to the rim.


Counterfeiting:

Friction linings of poor quality are lighter in color, have ragged edges in the areas of reflexions and rivet holes. Often, the linings are offset from each other.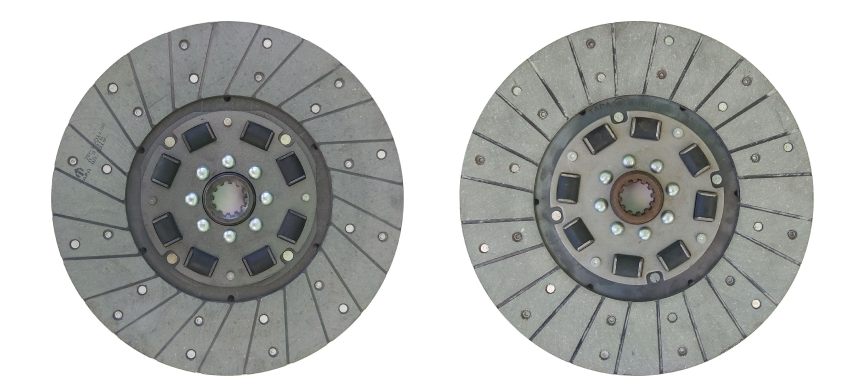 Why are TM products counterfeited?
Steadily growing sales, impeccable brand reputation, consumer confidence, all these factors affect the successful recognition of TARA TM in the CIS countries. It should also be noted that these factors make it attractive for unscrupulous companies using the TARA brand. "". Of course, the price is of great importance, but wholesale companies forget that all their activities should be aimed at providing and supplying quality spare parts for agricultural machinery.
Recently, cases of sale of fake clutch discs under the TM "TARA" "have become more frequent on the market of tractor spare parts."

What does the purchase of fakes lead to?
Installing fake spare parts leads to a number of negative consequences, which translate into additional costs, namely:
1.the number and frequency of equipment breakdowns increases,
2. increased wear and tear of adjacent parts, the operation of which is directly or indirectly related to the installed counterfeit product;
3. long downtime of equipment due to frequent repairs, which leads to a shortfall in the planned profit by the company.

If you have purchased a counterfeit part bearing the marking of the TARA plant, or you doubt the authenticity of the purchased products under the TARA TM", please contact us by phone in Melitopol:
+38 (0619) 49-05-06
or send a message to e-mail:
info@tara-ua.com